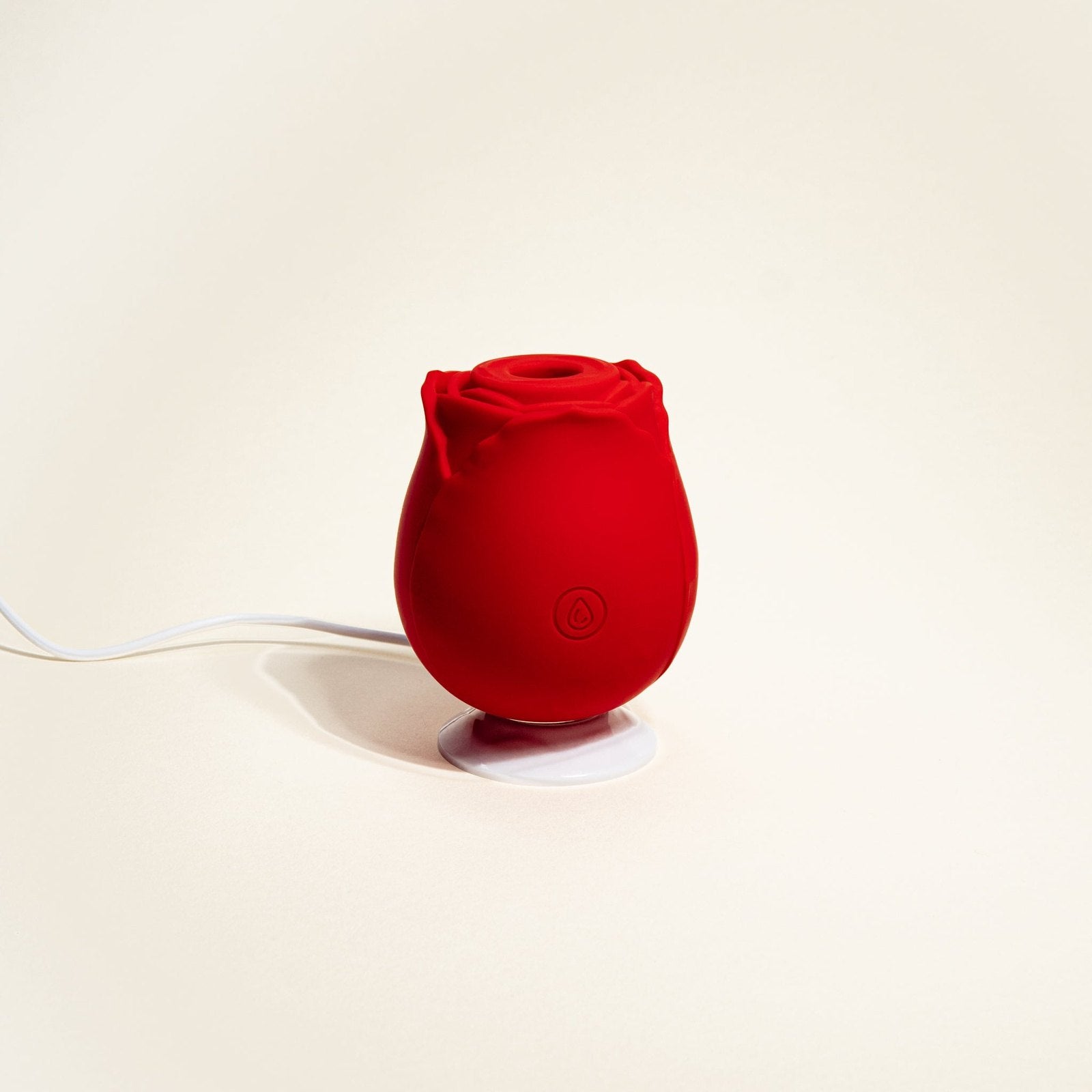 Rosie - The Rose Toy
$55.55 USD
Meet the clit sucker felt around the world: Rosie, the rose toy.
Expect extraordinarily satisfying suction modes that promise deep clitoral orgasms.
She's cute, and she's powerful. Indulge in Rosie's 10 massage modes, rechargeable battery, and waterproof design.
Rechargeable & Cordless
Waterproof Design
10 Speeds & Patterns
Powerful Clit Stimulator
30 day returns + discreet free shipping
Details
Specifications
Medical Grade Silicone
Waterproof
5 Intensity Levels
5 Pattern Modes
Run time: 1.5 hrs at highest settings
Charge Time: 2 hrs
USB Rechargeable
Includes: Rosie vibrator, USB charging cable, and plush storage bag.
How to use
○ Clean and charge before first use.
○ Hold down the power button to begin.
○ To change settings, quick-click to change intensity or pattern.
○ Create a gentle seal around the clitoris for maximum pleasure.
○ Relax, explore, and arouse.

Return policy
Don't worry we've got your back bestie.
○ Always free shipping ○ Always carbon neutral shipping ○ Always discreet shipping & payment processing ○ 30-day returns for store credit on all products
"The best self care ever."
"I was blown away by this vibrator. I've never had an orgasm this powerful. The hype is 1000% real."
1
Begin by charging Rosie.
Wash and charge is step one.
2
Apply lube to the clitoris.
Lubricant aids any clit stimulation.
3
Nestle clitoris within toy opening.
Aim to create a gentle seal for the best results.
4
Start your engines!
Power on baby, start at the lowest setting, and explore.
Discreet Shipping
All packaging is discreet
to protect your privacy.
Discreet Payment
All payment processing
is discreet for your privacy.
The deepest orgasms ever
The fastest orgasms too! Oh man, I am never going to be without the rose toy. I looooooove it.
Totally lives up to the hype
I tell all my girlfriends about this toy .... it really is so great. It 100% lives up to the rep. 5 stars .... Great customer service too.
LOVE
I've been thinking about buying a rose sex toy for so long and I'm so glad I finally did. This toy is AMAZING. Best orgasms I've ever had in my life.
This is the real deal!
This has changed my sex life. I've been using it with my husband and man, it's turned me into a new woman I swear.
I'm truly OBSESSED with Rosie
Just yes, yes,yes. 10 stars if I could.
Frequently Asked Questions
Essential Reading
We're committed to offering evidence-based, modern sex education for all. We think these articles may interest you.